T Shirt & Football Printing London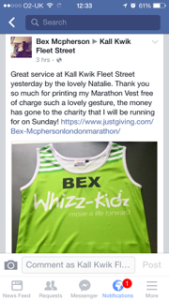 We have the ability to personalise a range of different merchandise items. Whether you're looking for t-shirts for a team building day or a logo applied to a water bottle, we can make sure that your identity is effectively transferred onto the item so that your message is communicated effectively. Are you running the Marathon, London to Brighton or any other sponsored event and you need a T-Shirt to represent you. Kall Kwik Fleet Street supply all merchandise and T-Shirts but if you want to supply please ask us before you purchase just to make sure the process meets with your purchases.
Let us guide you through the whole process our range of promotional gift and merchandising is endless please visit our gift website and you will soon seen how Kall Kwik can help you to get your company name and sponsored event out there.
We supply one off T-Shirts through to large volume orders from company uniforms through to special events, for a fast turnaround contact: Natalie on 020 7583 5207.
Examples of t shirt printing and merchandising options include:
T-shirts
Beer mats & Coasters
Bottle labels
Stickers
Sweatshirts
Vest Tops
High Visability Jackets
Football Shirts
Rugby Shirts
Fruit of the loom
Fleeces
Boiler Suits
Safety Jackets
Safety Vests
Baseball caps